Compliance is not a job function, it's a cultural attitude. Compliance permeates every department, and combined with effective tools and oversight, results in organizational success.

11 Compliance Consulting offers subject matter expertise on quality systems management, with a concentration on compliance to 21 CFR Part 11 and Annex 11 requirements. Our primary emphasis is providing implementation guidance from purchase to deployment of your next EDMS, LMS, or QMS.
From my own personal and professional perspective as a veteran IT Software Developer of 39 years, I found the services of 11Compliance to be invaluable and all of the people from your company to be both professional, knowledgeable, and a joy to work with. Of course, I can't ever say enough about Kate. As a leader in your company, she was truly amazing and definitely appreciate all of her efforts and guidance on our project. I know that originally, the whole reason why we were connected with 11Compliance was because our Software's vendor personnel resources were already heavily engaged with other customers and didn't have the bandwidth to assist us with our project deadlines. Personally, I couldn't have imagined a better fit in regards to your company and ours. And considering that my management requested an even earlier delivery date than previously discussed, I was amazed at how you all handled that and helped us meet our goals. You all did an incredibly amazing job!
I am writing to provide my enthusiastic recommendation for 11Compliance. I have had the pleasure of working with them for 2+ years on high profile QMS Implementation project and I can confidently say that they are a highly capable and professional business. They have consistently demonstrated a deep understanding of their industry and system and has been able to provide innovative solutions to meet the needs of their clients. Their attention to detail and commitment to excellence have been evident in every project they have undertaken. One of the things that impressed me most was their ability to work collaboratively with their clients, ensuring that they fully understood their needs and concerns before providing a solution. They were always willing to go the extra mile to ensure that their clients were satisfied with the end result. In addition to their technical skills, I have found Jo Deyo and Kate Creegan to be especially reliable, responsive, and easy to work with. They always communicate clearly and effectively, and they are proactive in keeping their clients informed throughout the project lifecycle. Overall, I would highly recommend 11 Compliance to any business looking for a capable and reliable partner. They have consistently demonstrated their expertise and professionalism, and I am confident that they will continue to provide excellent service to their clients.
Documentation errors can lead to big trouble. In a recent FDA Warning Letter, a company was notified that their filing…
The regulations for food and drugs in the United States, described in Title 21 of the Code of Federal Regulations…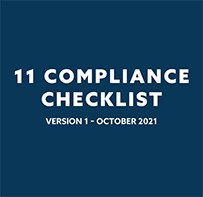 INTRODUCTION 21 CFR Part 11 is an FDA guidance that sets out how organizations operating in the United States can…
11 Compliance is devoted to helping your business.
Find out how we can help you meet your goals.